KUALA LUMPUR: Kim Hin Joo (M) Bhd, which has been involved in the sale of products for baby, children and maternity for over three decades, is banking on a new engine of growth – the lucrative toys business.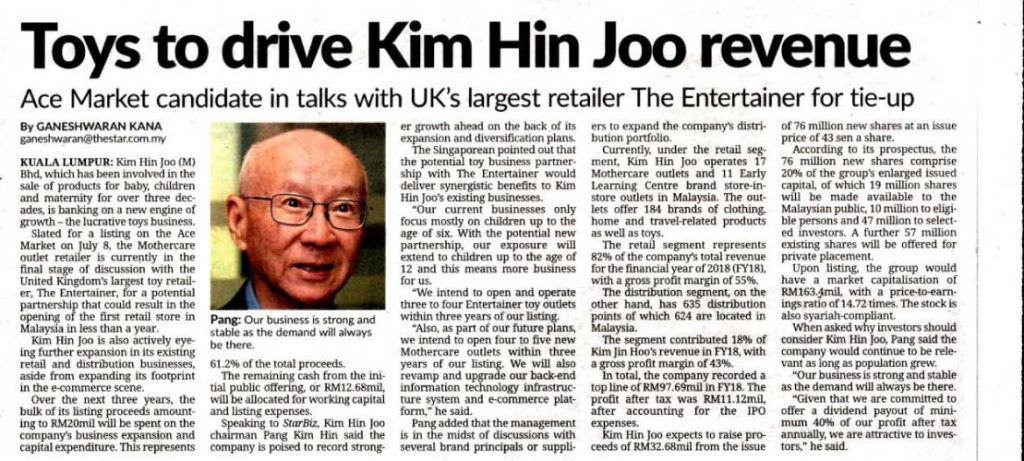 Slated for a listing on the Ace Market on July 8, the Mothercare outlet retailer is currently in the final stage of discussion with the United Kingdom's largest toy retailer, The Entertainer, for a potential partnership that could result in the opening of the first retail store in Malaysia in less than a year.
Kim Hin Joo is also actively eyeing further expansion in its existing retail and distribution businesses, aside from expanding its footprint in the e-commerce scene. Over the next three years, the bulk of its listing proceeds amounting to RM20mil will be spent on the company's business expansion and capital expenditure. This represents 61.2% of the total proceeds.
The remaining cash from the initial public offering, or RM12.68mil, will be allocated for working capital and listing expenses.
Speaking to StarBiz, Kim Hin Joo chairman Pang Kim Hin said the company is poised to record stronger growth ahead on the back of its expansion and diversification plans.
The Singaporean pointed out that the potential toy business partnership with The Entertainer would deliver synergistic benefits to Kim Hin Joo's existing businesses.
"Our current businesses only focus mostly on children up to the age of six. With the potential new partnership, our exposure will extend to children up to the age of 12 and this means more business for us.
"We intend to open and operate three to four Entertainer toy outlets within three years of our listing.
"Also, as part of our future plans, we intend to open four to five new Mothercare outlets within three years of our listing. We will also revamp and upgrade our back-end information technology infrastructure system and e-commerce platform," he said.
Pang added that the management is in the midst of discussions with several brand principals or suppliers to expand the company's distribution portfolio.
Currently, under the retail segment, Kim Hin Joo operates 17 Mothercare outlets and 11 Early Learning Centre brand store-in-store outlets in Malaysia. The outlets offer 184 brands of clothing, home and travel-related products as well as toys.
The retail segment represents 82% of the company's total revenue for the financial year of 2018 (FY18), with a gross profit margin of 55%.
The distribution segment, on the other hand, has 635 distribution points of which 624 are located in Malaysia.
The segment contributed 18% of Kim Jin Hoo's revenue in FY18, with a gross profit margin of 43%.
In total, the company recorded a top line of RM97.69mil in FY18. The profit after tax was RM11.12mil, after accounting for the IPO expenses.
Kim Hin Joo expects to raise proceeds of RM32.68mil from the issue of 76 million new shares at an issue price of 43 sen a share.
According to its prospectus, the 76 million new shares comprise 20% of the group's enlarged issued capital, of which 19 million shares will be made available to the Malaysian public, 10 million to eligible persons and 47 million to selected investors. A further 57 million existing shares will be offered for private placement.
Upon listing, the group would have a market capitalisation of RM163.4mil, with a price-to- earnings ratio of 14.72 times. The stock is also syariah-compliant.
When asked why investors should consider Kim Hin Joo, Pang said the company would continue to be relevant as long as population grew.
"Our business is strong and stable as the demand will always be there.
"Given that we are committed to offer a dividend payout of minimum 40% of our profit after tax annually, we are attractive to investors," he said.